Semiconductors Scorching as Suppliers Work to Meet Demand.
The Semiconductor sector is doing about what we predicted and has now had a solid breakout. The last 2 quarters for the year should be good for this sector as chip manufacturers work hard to catch up with demand. Expect more of a choppy market for August, as July and August are historically very choppy and usually do not provide for a lot of gains. Covid is having some effect on the markets, but it is our opinion that it is likely just because it is this time of year, and the markets are overbought.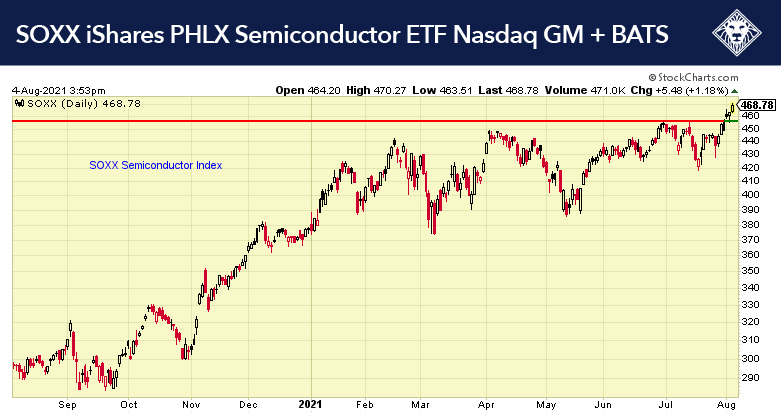 The ISM Services PMI shot up 4.0 points in July to 64.1, a record high, and above the consensus of 60.8. It shows a significant surge in services activity at the start of Q3, in contrast to a softer pace of growth in the manufacturing sector. The combined latest readings of the ISM Services and Manufacturing PMIs correspond to 4.4% real GDP growth annually. It suggests that while the expansion has lost some momentum in early Q3, growth is quite robust and there is no risk of recession on the near-term horizon.
Most individual activity indexes posted strong gains last month. Business activity rebounded 6.6 points to 67.0, the third highest reading ever. New orders and employment growth also picked up. Similar to manufacturing, services continued to be plagued by shortages and bottlenecks. The supplier deliveries index climbed 3.5 points to 72.0, second only to the reading from April 2020 when the economy was in the midst of a pandemic lockdown. Because of these nearly unprecedented vendor delays, firms dipped again into their inventories, which fell further into contraction territory. Inventory sentiment fell to another record low, which is as much a sign of strong future demand as it is a sign of firms' trepidations about meeting that demand. Order backlogs accumulated at a near-record pace, highlighting mounting capacity constraints, despite the uptick in the hiring pace. Import order growth eased, while export order growth rebounded to the fastest rate since May 2007.
ADP private payrolls increased 330,000 in July, the smallest gain in five months, and well below the consensus of 628,000. The three-month average dipped to its lowest level since April, as job creation has lost momentum over the past several months. Since ADP payrolls are still 6.5 million short of their pre-recession peak, the current pace of job growth implies that the peak will not be recovered until June 2022. This is in contrast to real GDP, which surpassed its pre-recession high in Q2. ADP noted that "bottlenecks in hiring continue to hold back stronger gains." While some of the factors weighing on labor participation, such as childcare options and unemployment benefits, should ease in the coming months, the recent spike in COVID cases presents a near-term headwind.